Molichrom: Festival of Nomadic Photography 2021
24 June 2021 at 8:00

-

15 August 2021 at 17:00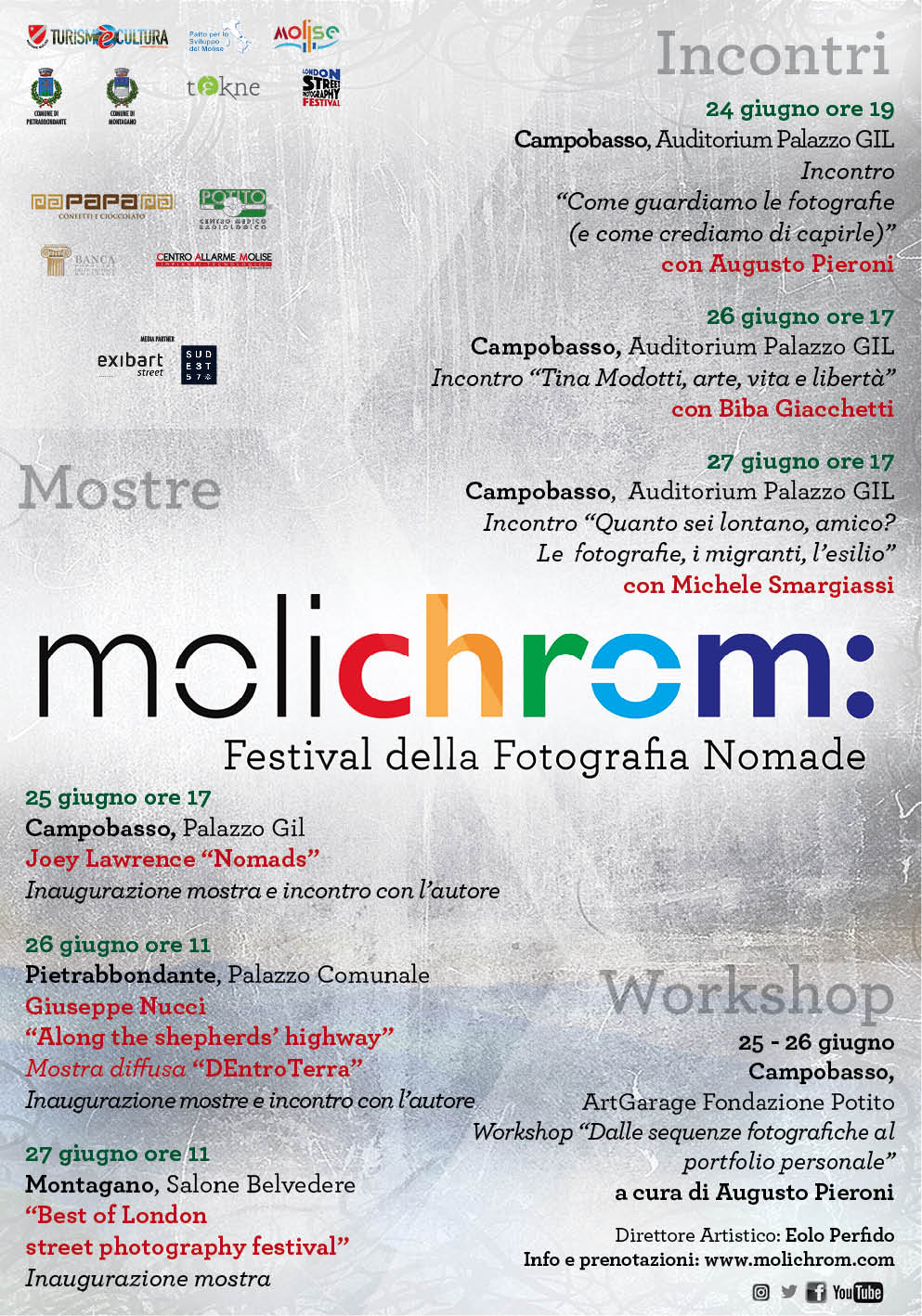 From 24 June, Molise, a little region in Italy, becomes the center of international and contemporary photography with exclusive exhibitions, meetings, installations, and workshops under the artistic direction of Eolo Perfido.
"I wanted to bring attention to artists who, through very different experiences and even very distant points of view, offer a unique opportunity to experience what we can call the nomadic gaze. Because photography is a journey that offers us the opportunity to see what others have seen before us".
Thus the artistic director Eolo Perfido introduces the first edition of Molichrom: Festival, an international and contemporary photography event that sees Molise as an operational center and nomadism as the central theme of this edition. "Land of 'tratturi' and 'transhumance', Molise has always had a strong link with its territory and its history. Also for this reason – continues the director – the theme chosen for the first edition is that of nomadism, as a conceptual point to tell through photography what is one of the most important identities of mankind. Doing it in an area that over the years has distinguished itself for being an escape point but also a landing and arrival point seemed to me to be a unique opportunity."
From Thursday 24 until 15 August, the exclusive exhibitions of photographers such as Joey Lawrence and Giuseppe Nucci, the prestigious selection of the Best Of London Street Photography Festival, the lectures by Michele Smargiassi, Biba Giacchetti, and Augusto Pieroni, guerrilla art, and workshops spread among Campobasso, Montagano, and Pietrabbondante.
Molichrom: Festival of Nomadic Photography was an idea built together with the Tèkne Association, a group of operators of art, entertainment, and communication, which over the years has been involved in Molise with passion and enthusiasm.