We live in exciting times and Olympus is without doubt a part of this adventure.
As we told some days ago, Olympus introduced today the highly anticipated OM-D E-M1X, a mirrorless camera designed with professional photographer's in mind to meet the performance and feature needs of the most demanding street photographers.
This Olympus E-M1X packs a lot of cool new features, performance and lots of impressive technology into a very rugged, superbly weather-sealed body.
Besides the press release we can see this is not a "micro" Micro Four Thirds camera. The new OM-D E-M1X is the biggest Micro Four Thirds camera that Olympus, or any MFT manufacturer, has made to date until today.
However, with the larger-sized design comes not only increased durability but also better balance and handling characteristics when using larger, longer lenses, such as the 40-150mm f/2.8 Pro and especially the 300mm f/4 IS Pro.
An ergonomic layout with a single function for each button lets street photographers operate controls while concentrating on shooting through the viewfinder. The height and shape of each individual button is varied to prevent misoperation.
A new viewfinder featuring advanced optical design with a four-element configuration of aspherical lenses and lenses with a high refractive index creates an industry leading viewfinder. The E-M1X viewfinder has a high 0.83x magnification (35mm equivalent) with a clear edge to edge display of the image with no distortion. Functioning at a maximum frame rate of 120fps the high-speed progressive scan electronic viewfinder minimises display time lag down to 0.005 seconds for smooth display of fast-moving subjects. The two high-performance TruePic VIII image processors replicate dark tones smoother on the display.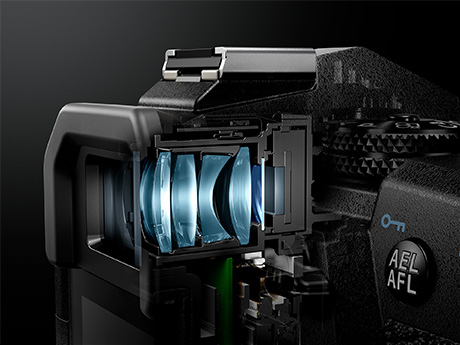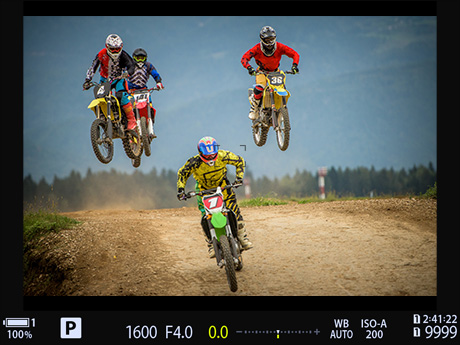 Weather sealing of the E-M1X exceeds the conventional weatherproof standard of IPX1 to provide peace of mind and reliability in punishing environments. This construction allows photographers to shoot without being affected by weather and without a rain cover. The dust, splash and freeze-proof sealing is maintained even when cables are connected to the remote cable, microphone, and headphone terminals. The rubber sealing used on Olympus Tough cameras is used to seal each of the camera covers including the SD card slot.
Dust Reduction System and has a long track record of reliability. The Supersonic Wave Filter(SSWF) vibrates at a speed of more than 30,000 times per second to instantly remove dirt and dust. The E-M1X has a new coating on the sensor to reduce the possibility of dust in photos to a 10th of previous models, allowing for lenses to be swapped even in duty environments.
Heat dissipation construction of the E-M1X is achieved via the use of a heat pipe to dissipate heat generated whilst shooting. In particular this feature limits issues caused by rising temperatures from continuous shooting or shooting videos in hot weather.
The superior AF system from the OM-D E-M1 Mark II has been advanced to provide photographers more auto-focus capabilities than ever before. The ability to customise and inclusion of multi point selector allow the camera to have greater responsiveness to a subject's size, movement and speed. In addition to the overall AF performance improvements, the E-M1X includes a new feature, Intelligent Subject Detection AF, developed from Deep Learning Technology.
Whilst capturing at full 20.37 million effective pixels, the E-M1X is capable of maximum 18 fps AF/AE tracking high-speed sequential shooting. Live View display is supported during sequential shooting for precise tracking of even fast-moving subjects. Inclusion of two TruePic VIII image processors improves processing speed and significantly reduces buffer clearing time for simultaneously recording two images, delivering highly responsive sequential shooting performance.
Maximum 60 fps AF/AE lock high-speed sequential shooting is available while capturing images at the full resolution of 20.37 million effective pixels. With sequential shooting performance that goes beyond SLRs, it is possible to capture split-second moments that the human eye cannot see in high definition.
The Anti-flicker shooting mode reduces the effect of flickering that tends to occur under artificial lighting. The camera can detect the frequency of artificial lighting and activates the shutter at peak brightness to smooth out uneven exposure and colour between frames. This feature is particularly useful for shooting indoors.
Key Specifications
20MP Four Thirds sensor
121-point autofocus system with deep learning-based subject recognition
Hand-held high-res shot mode
Up to 60 fps Raw + JPEG capture (up to 18 fps with autofocus)
Pro Capture mode records frames before you hit the shutter
Up 7.5EV of image stabilization with supported lenses
'Live ND' multi-shot mode simulates ND filters
Large 2.36M-dot LCD viewfinder able to work at up to 120fps
Dual BLH-1 batteries giving 870 shots per charge (CIPA)
Dual UHS-II SD memory card slots
Extensive direct control, dual AF joysticks, articulating touchscreen
UHD 4K/30p video and DCI 24p at up to 237Mbps
Extensive, IPX1-rated weather sealing
USB charging