STREET KIT: Lorenzo Lessi
Hello, my name is Lorenzo Lessi, I am 42 (I will be 43 in November), I live and work in Cecina (LI), mostly I work with fine art printing and post production.
I also have my own photography studio.
As a photographer I create photos of interiors, celebrations and still life. On multiple occasions my works have been exhibited in the shows in Italy and abroad, but I do not have a list of those shows, because unfortunately I'm not a very organized person.
From time to time I organize courses on post-production in different places in Italy.
When did you start taking pictures and why?
In 2003 I took an introduction course of photography at Fotocircolo Fbn (I still go there sometimes) and that is how my passion for photography was born. Why? It's hard to tell.. Basically, it's a necessity. As one great photographer once said: "I photograph in order to see how the world looks like in a photo." (Garry Winogrand)
Your photographic genre?
I started by taking pictures of classical Tuscan landscapes and then I got into the so-called "man altered landscape", a type of photography I still use now. In 2013 I began working on street photography "full-time", before that I had been working with it during my trips abroad, starting in 2007.
As one great photographer once said: "I photograph in order to see how the world looks like in a photo." (Garry Winogrand)
What does your typical day look like?
I get up, I go to the office, I print, I do post-production, I answer emails, almost right away I go on the Internet (as everyone does nowadays) both for work and for leisure. Unfortunately, I only have time for "personal" photography on the weekends.
Could you tell us about the most important photography of your entire career or maybe about one that you care about most of all?
Arles, Le Rencontres de la Photographie, August 2014 – A dear friend of mine (Vinicio) suggests going to this festival which, I must admit my ignorance, I knew the name of but didn't know much about. There we see an unbelievable number of exhibitions (of a very high quality too), and one morning we enter Parc des Ateliers, an ex-industrial area that has been turned into an exhibition space, and I start looking around absentmindedly… Vinicio says: "Look at this!", and I see a completely surreal scene in front of me: there are a photo booth inside the exhibition space, presented there as a sort of a summary to the exhibitions, and a couple that want to take the canonical two-by-two photo booth shots. The guy is already inside, while the girl is just entering, and it's incredible but her pleated skirt has the same folds and the same color as the curtain of the photo booth. In addition, there is a background of the same turquoise color both on the curtain and on the dress. I only have one photo of that scene, taken on the spot.
That picture is important for me since it was "suggested" by a friend, who provided me with the material for a "field of research" on human beings and urban space. That photograph was very successful both on the Internet and in the "actual" photography competitions. It has entered the final of both Miami Street Photography Festival in December 2015 and "StreetFoto" in San Francisco in June 2016.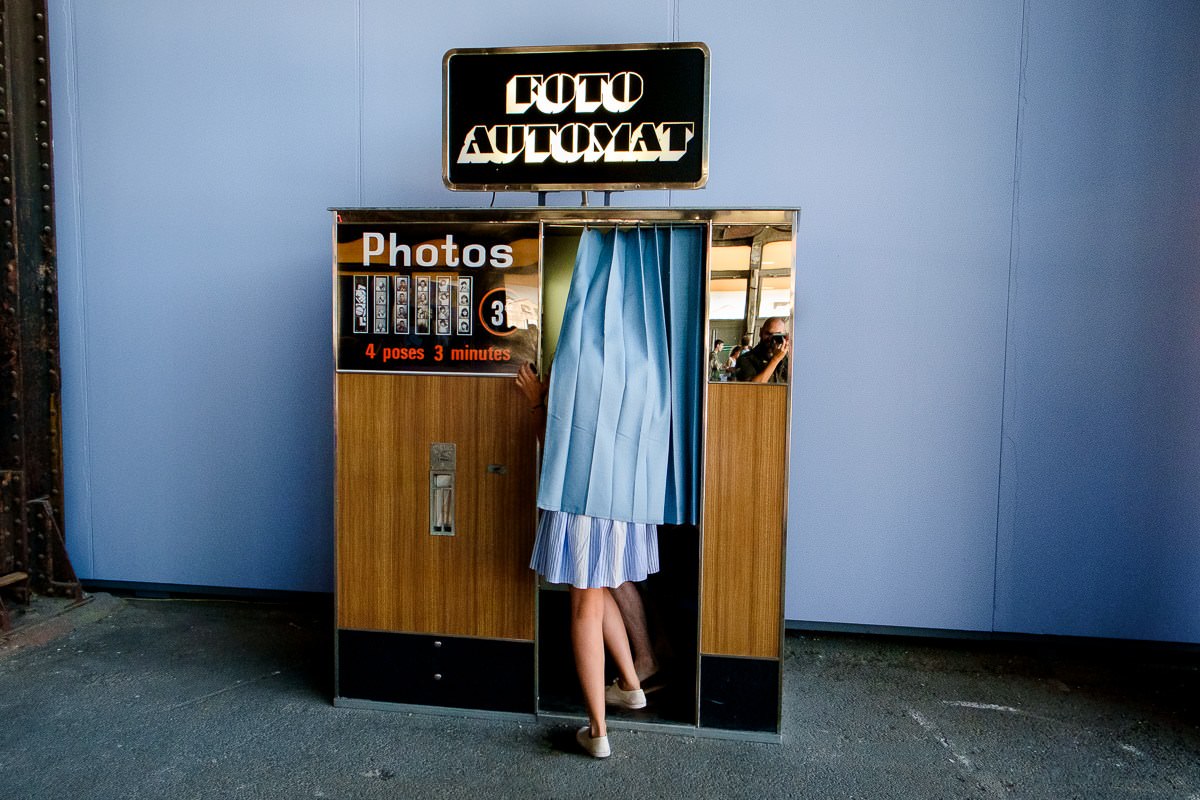 What's inside your camera bag?
The Fuji set consists of X-Pro 2 and X-E2 camera bodies, lenses: 14mm f/2,8 – 18mm f/2 – 23mm f/1,4 – 35mm f/1,4 – 50mm f/2 – 18-55mm f/2,8-4.
The Canon set consists of: 6D camera body, lenses: 17-40mm f/4 – 24-70mm f/2,8 – 70-200mm f/2,8.
What do you think to add in the bag and what do you think you give away?
I hope to take a third camera body Fuji, probably X-T2 and a slightly stronger telephoto lens, maybe even a wide-angle zoom. I am considering giving away (maybe not right away though) the Canon equipment. I am fond of it, but I think it might be the time I changed it.
The photography site you visit most often?
In terms of contemporary photography, I would say that I use the social media a lot (Flickr – Instagram – Facebook), both to follow photographers and when I want to look into something. Otherwise, I prefer books and photography shows.
Thanks Lorenzo!