Fred Herzog – Modern Color
Legendary Vancouver photographer Fred Herzog has died. He was 88.
Herzog was among the first in the world to make art with color photographs. In the 1950s and 1960s, many in the art world didn't take color photography seriously, considering it amateurish and garish. Most other serious artists took only black-and-white photographs. Herzog was a young immigrant from Germany when he arrived in Vancouver in 1952. In 1953, decades before William Eggleston and Stephen Shore established color photography as a serious medium for art photography, Fred Herzog shot his first roll of color film.
Fred Herzog arrived in Vancouver in 1953. The young German immigrant was fascinated by all aspects of Canadian life and set out to document it with his camera.
Herzog saw art in almost everything: a family sitting outside on a summer's day, a Volkswagen Beetle turning the corner in the rain, a wall of photos of men's hairstyles in a Main Street barbershop. He shot billboards, second-hand stores and store window displays, neon signs, the working waterfront, and people.
Herzog also had the vision, and courage, to shoot in color when virtually all serious art photography was in black and white.
During the day, he worked as a medical photographer for local hospitals and at the University of B.C.
In his spare time, he walked the streets of Vancouver with his camera taking photographs of people, buildings and whatever scenes caught his eye.
"Herzog's photographs didn't develop out of a conceptual framework in the studio. They came from walking. They come from that process of walking and that intuitive, deductive reasoning of where to be and how to take a picture when you're there," said Andy Sylvester, owner of the Equinox Gallery in Vancouver.
Two of Herzog's big influences were Walker Evans, who documented the effects of the Great Depression in the U.S., and Robert Frank, whose photographs were published in the influential book The Americans and who also died Monday.
Herzog used the unique quality of Kodachrome slide film to accentuate colors and textures. By taking color rather than black and white photographs, he made his street scenes seem much more modern.
Herzog's big breakout occurred late in life when The Vancouver Art Gallery held the first major retrospective of his work in 2007: Fred Herzog Vancouver Photographs curated by Grant Arnold. Herzog was 76 years of age.
After the exhibition at the VAG, Herzog's career took off. A gallery in New York started selling his work and he's had numerous exhibitions in Europe.
"I have to work fast and on impulse as I walk around the city with my hand-held 35-mm Leica camera. If you don't trust your instincts, if you don't trust your first vision, then you lose it. So when there's action I start shooting right away. I don't look long." Herzog told The Sun in 1994.
After the exhibition at the VAG, Herzog's career took off. A gallery in New York started selling his work and he's had numerous exhibitions in Europe.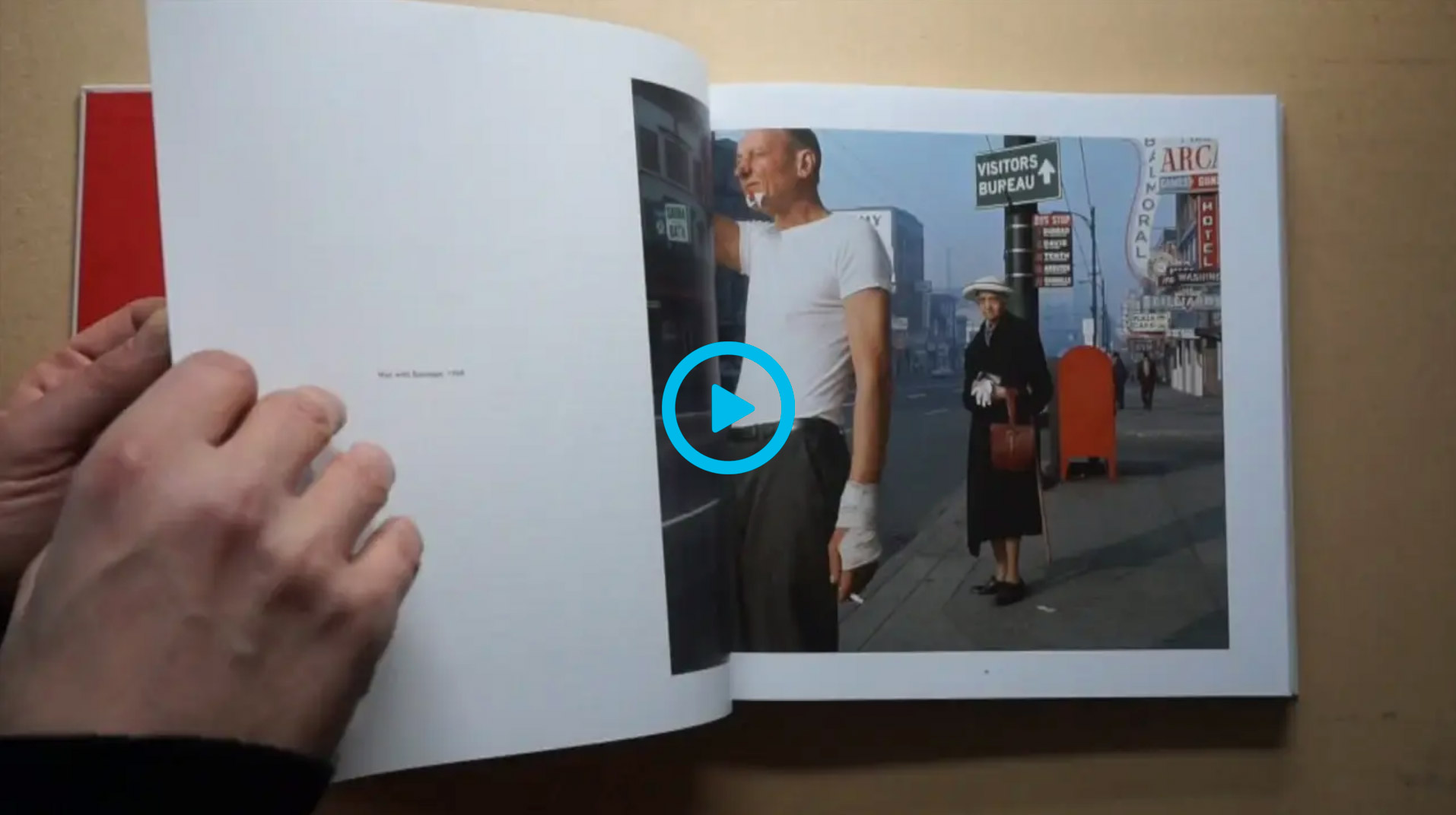 Fred Herzog, as we said, is known for his unusual use of color in the fifties and sixties, a time when art photography was almost exclusively associated with black and white imagery. The Canadian photographer worked almost exclusively with Kodachrome slide film for over 50 years, and only in the past decade has technology allowed him to make archival pigment prints that match the exceptional color and intensity of the Kodachrome slide. In this respect, his photographs can be seen as a pre-figuration of the New Color photographers of the seventies. This book will bring together over 230 images, many never before reproduced, and will feature essays by acclaimed authors David Campany and Hans-Michael Koetzle. Fred Herzog will be the most comprehensive publication on this important photographer to date.
Hardcover: 320 pages
Publisher: Hatje Cantz (February 28, 2017)
Language: English
Size: 11 x 1 x 11 inches
Weight: 4.2 pounds
ISBN-13: 978-3775741811
Fred Herzog (born 1930 in Germany) arrived in Vancouver in 1953. Professionally employed as a medical photographer, he spent his evenings and weekends photographing the city and its inhabitants in vibrant color. Though he has been working prolifically since the 1950s, Herzog was relatively unknown until a major retrospective at the Vancouver Art Gallery in 2007 brought his work to a wider public. Digital inkjet printing has enabled Herzog to finally satisfactorily make prints from his slides and exhibit his important early color street photography.